Salt mines close to Krakow (Kopalina Soli, Wieliczka)
25/05/11 21:06 Filed in:
Travel
It is very old, very big, very interesting. This is not just a mine, but like an underground city. They had many, many chapels, some of them still in tact. Being a salt mine, almost everything is made of salt. E.g. The statues, the crystals of the candelabra, the dwarfs etc, etc. A few of the many salty objects are actually made by salt from different mines, because of the different colors. This mine has no iron in the salt. So when they wanted to have some red, they have used salt from other mines.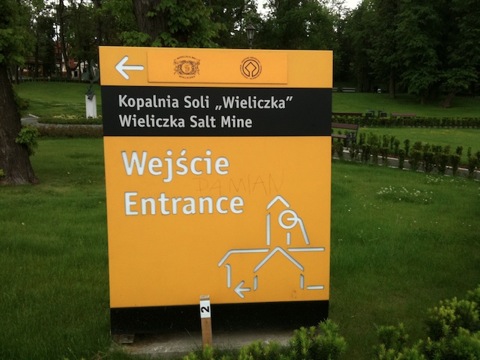 The mine is not directly in Krakow, but in Wieliczka (Pronunciation: In German, I would write it like Wilitschka. In Turkish, like Wiliçka). This is a rather small town. It is easy to find the mines once you are there by car. You can also come by Bus from Krakow. There are guided tours inside and only guided tours. Imagine, only a few percent of the whole complex is accessible for the tourists and that takes 3 hours. You can choose between Polish, English and German.
The mine is not active as a mine any more, because they have to dig deeper and deeper, which is more and more expensive. But the amount of tourists coming here is impressive. I read somewhere that it is comparable with the pyramids in Egypt. That might be true. Since I was there on a Monday, the place was flooded by school children. That is quite noisy I must say, so I had sometimes trouble to hear our own guide although there were no children in our group. We were about 13 people, but our guide told us that in worst case she had a group of 70 people.
Well, here comes my recommendation. Do not come here in the high season, but in May like me seems to be OK. You can exit after two hours if you wish, what most people did or continue for one more hour in the museum part within the mine. Our group was reduced to 4 people incl. the guide, so it felt like a private tour. There were no other groups, certainly no more children there and I must say, it is for sure worth to see that part too.
The first surprise I had inside was the quality of the air. It was really, really fresh! Lot's of oxygen. And they have even patients here who spend some time down there to breathe the good salty air. No joke! The temperature is about 14 to 16 deg. Celsius.
The former director of the mines was an artist. He made many models of various things in the mine. They are very beautiful and made with love to the detail. Here are two pictures. One of them shows how the town looked like as the old wooden houses were still there and the other shows scenes from the mine itself.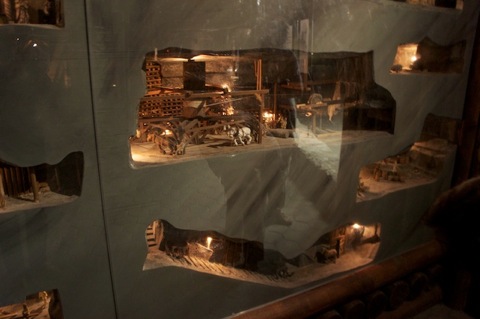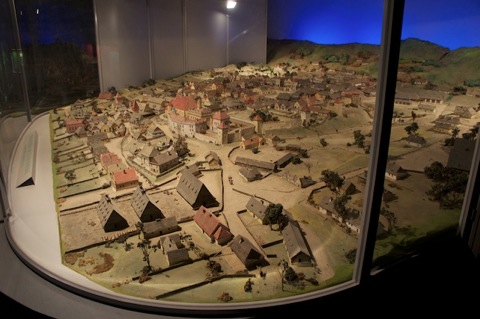 The mine is very old as I said at the beginning, but I don't want to repeat the information that you can also find in official sources. I just show you what I didn't see in my tiny guide book or internet pages after looking at the first few ones. Here are the dwarfs that I mentioned before. That was a contribution from the times this area belonged to Austria. They are cute, aren't they?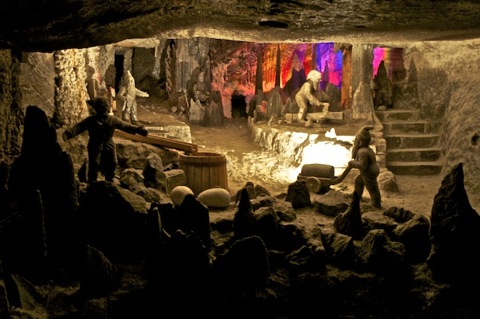 Here is a salt lake. It is so salty that you can't be drowned. There was even a part, where the tourists passed a certain part by a ferry within the mines. But even though you cannot get drown, there was an accident with that ferry such that some people died because they couldn't breath.. SInce then the ferry is suspended.
The mines have a very long tradition of tourism. From Kepler to Goethe, you will find sculptures of many famous people here. In a salt lake similar to the one below you can listen to some famous tunes from Frédéric Chopin (who was of course also here) together with a nice light show.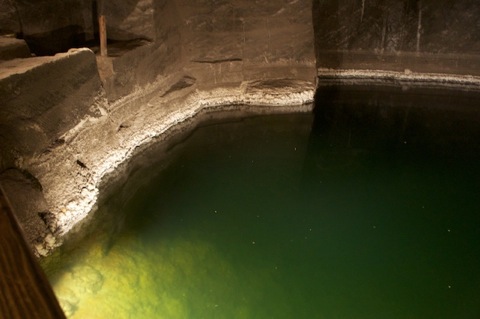 As a tourist, you are always walking along safe paths. But the miner didn't have always safe passages and stairs. The picture below shows how dark and dangerous it could be as well: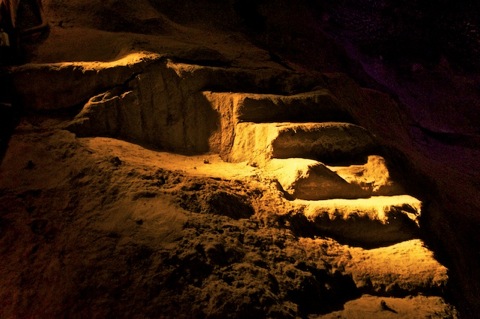 Still reading? Very good, since here comes the highlight that you can also see on other websites. So I spare you the details about the history, but it is simply wonderful to see. As with many other guided tours, there is simply not enough time to digest this beauty and to take good pictures too. I wish I could spend like half an hour here in Saint Kinga's chapel, but the guide has to follow a program... I would say it is worthwhile to go down again just to see this hall once more.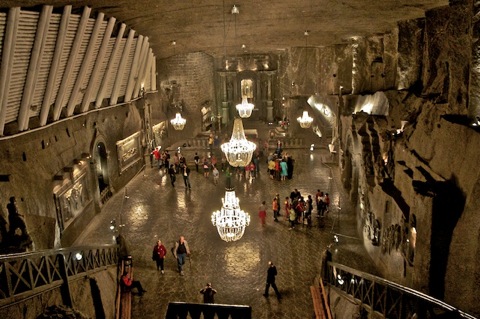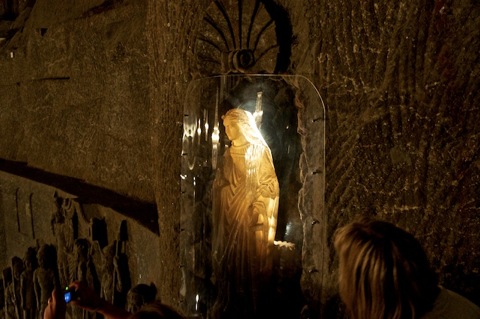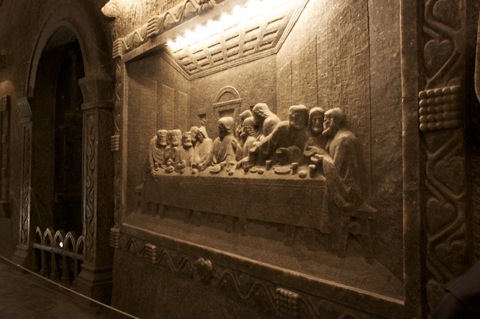 Note that everything here, including the floor is made of salt stone. You are not allowed to lick the sculptures

No joke, but that has happened too often so that you hear that more often that you can taste the walls, but please don't touch the sculptures. By the way, these reliefs? are indeed 3D. about 20cm deep? Very beautiful.
There were many chapels, because the mines are just huge. But the above is the biggest attraction.
In all these centuries, it was not only people working here, but also horses. They stayed here their entire life and got blind. Although they had a lot of workers here, to be able to bring all the heavy stones up, pump the water up all the time and bring lots of wood down, they obviously couldn't do without horse power. The horses were lifted up once when there was a major fire. It lasted months and they simply had to wait until all the wood burned.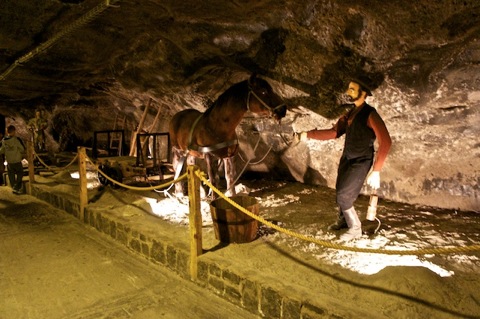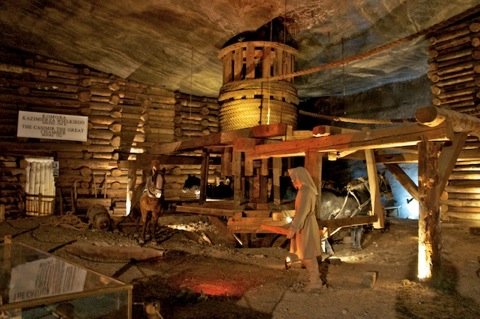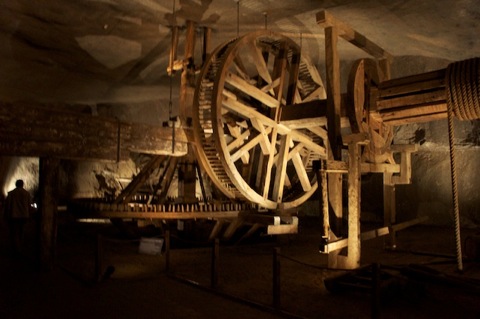 The mining is a dangerous business as we all know. Not only inside the mine, but due to the holes they made under ground, there was also holes created on the surface and some buildings collapsed into it... There is also the flammable or even explosive methane gas that gives the miners a hard time. The picture below shows how they have burned the gas from time to time to avoid explosions later on.
That concludes my contribution to this UNESCO World heritage. A must see!
[Sleeker_special_clear]