Final destination
15/08/11 10:19 Filed in:
Travel
I arrived in İzmir. It is sunny all the time. But not as humid as in İstanbul, so the heat is OK. The plan is to stay here several weeks and then to return.
It is ramadan right now. Drums walk around in the middle of the night to wake you up so that you don't miss your breakfast before the day sun rises... And after the sun sets, they shoot a canon so that you know when you can start eating again

Holidays
06/07/11 20:53
Sorry folks, I haven't post anything for a while. That is because I am on holidays

I have been in Breslau, Vienna, Krk and Porec in Croatia and now I am close to Pula. In other words, I have started the beach part of this trip and I can't always find a camping place with a good internet connection. That turned out to be more difficult than I expected. Even the good camping places don't give much priority to their WIFI or make it just too expensive for my budget. Now I hope to catch up a bit in the next days.
Zakopane - Poland
14/06/11 18:22 Filed in:
Travel
Zakopane is a very touristy town at the border to Slovakia. In the winter, it is a ski resort. In the summer, it is great for hiking. I made it to two places:

I just fell in love with Lake Morskie Oko. I felt like shooting a picture every 100 meters, although it was very cloudy and partly rainy that day. I guess it is like that most of the time, because it is mountains with a lot of forests. This lake is located in the Carpathian Mountains. This part of the mountains is called the Tatras and is the highest region and are declared as a national park. That is probably the reason why it is difficult to get to the lake. You are allowed to get as close as 9 km by car or bus. Then you have to park. The last 9km uphill, you have to walk or take a horse carriage or take a taxi. The road is asphalt. I walked all the way up and made some friends. Be prepared for some hefty rain. I thought I had a good rain coat, but this rain proved the opposite and I was soaked. As it was also quite chilly in that hight, I would really recommend to be well prepared for that. Luckily, at the end of the road and 2km bore there is big cafe where you get something warm to eat and drink. That saved me from undercooling.

We made a whole round around the lake, but for the way back we decided to take the horse carriage. That is much faster and sooo relaxed after all that walking and rain. But it was really woth the effort. I would do it anytime again.

Here is my favorite picture I took from the lake. If you would like to have it in higher quality for the screen click here. If you need the best quality I have for printing, click here.

Note that it was a bit tricky for me to find the way here. I had a map from the tourist office saying, follow the road to "Lysa Polana" which is the border crossing to Slovakia and the parking place is very close to that border, but still on the Polish side. Well "Lysa Polana" is not the name of a town or a street, so my GPS couldn't find it. It was easiest to type in the name of the next town in Slovakia (Tatranska Javorina) and just not cross the border. Then you will also see a number of signs labelled "Lysa Polana".


Auschwitz - Birkenau
11/06/11 12:01 Filed in:
Travel
More than a million people suffered terribly and died in this place. Many wrote about it. It is well documented and the remains of the place is preserved as a state museum. What can I contribute? As usual, I will not repeat everything you can also find in encyclopedias, books, internet etc. I assume you already know about it and give here just some of the basics and how it affected me. If you intend to come here, don't bring small children with you.
At the beginning, I didn't feel like making any pictures at all and I made none from Auschwitz 1. Additionally, I preferred to listen to the guide and to look at things rather than being busy with making pictures. As usual with guided tours, you don't get the time to make proper pictures. The best you could do is a super quick snapshot and continue. But later on in Auschwitz 2 - Birkenau, I made a few. There you can also walk around on your own. I haven't visited the third part.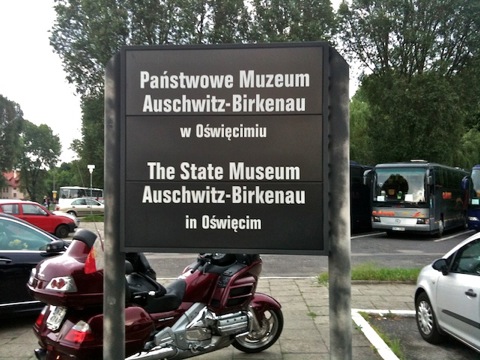 I joined the latest tour of the day, so the number of visitors for our guide was relatively small. Around 15. She told us, that they have up to 60-70 people per guide sometimes.. Even with the small group, I found it a bit challenging to look at the things and to follow her. Additionally, different groups intermingle often. So, my advice is: Forget about taking pictures. You can find them in books anyway. Even at that speed, it took about two hours for Auschwitz 1 only and we missed the bus to Birkenau.
The first part were originally military barracks of the polish army. After the German invasion, they have turned it to a prison. At the beginning, it was used to keep Polish and Soviet prisoners of war. Later came also intellectuals, homosexuals, German criminals, political prisoners and of course Jews, Romas and more. About 90% were Jews.
The Polish population around the camp have been removed to other places. The terror and genocide here was kept as a secret as long as possible. The jewish people who were deported here were told that they come here for work. Some of them even had to buy a ticket to come here! They travelled from all over Europe. Sometimes for many days in a train like this with no windows and totally overcrowded.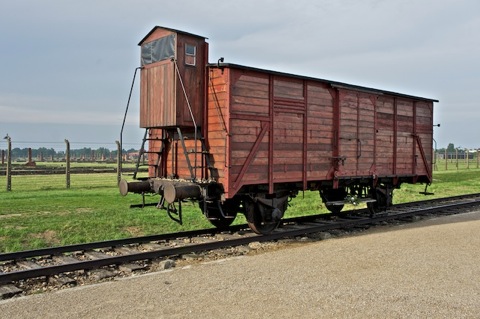 But immediately after arrival, the selection process started. About 70% of them, most of the women, children, elder people were regarded as useless for slavery work, so they have been sent straight to take a "shower". In fact they entered a room to undress and the room next door was the gas chamber. The doors were closed, deadly gas was released and everybody died within 20 minutes. Then the gas chamber was ventilated, and next door, the bodies were burnt. The ashes were used as fertilizer in the nearby farms.
The ones who were selected for work, lived in terrible conditions. The next picture shows the three levels of "beds" they had to use to sleep. Each level was packed like in those terrible chicken farms.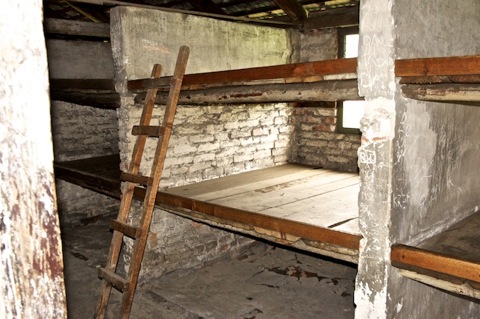 Those who worked in farms and factories were exhausted or starved between weeks and months. There was no lack of new prisoners... In fact there were so many, that even though the gas chambers and crematoria were killing and burning hundreds and even thousands of people per day, that was still not enough. Therefore, some people were also burned in mass graves.
Some were selected to live a little longer, not to work, but for medical experiments..
Since Auschwitz 1 became too small for all that mass murdering, the prisoners had to build Auschwitz 2 (Birkenau). This place is 20 times bigger. Most of it is destroyed today, because the Nazis wanted to hide the evidence as the war was close to its end. Still, there is sufficient documents, photographs and remains of buildings left to see what happened here.
The picture below shows Birkenau, just to give an understanding of the size.. Of course, I couldn't capture the whole of it in one picture.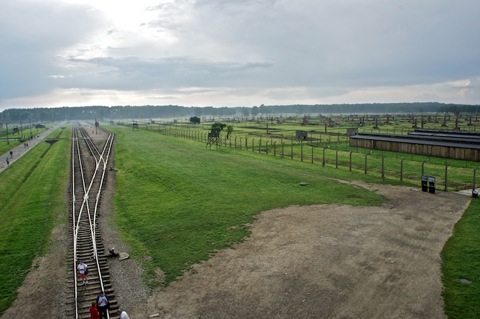 Forgive me, if I don't mention things that you might think that should be here too or my numbers are not precise. Sure, there is much more to tell about it. But I don't intend to replace all the books and documentaries. This is a personal blog after all.
I stayed in Krakow and came here by car. That took me a bit more than an hour. The landscape is actually quite beautiful. But for me personally, it was rather a spooky experience. By the time I left my camping place in Krakow, it was a sunshiny day as in the picture book. The closer I got here, the sky got darker and darker and yes, when I arrived there were also a few thunders...
Walking around this place can be a bit tiring. Combined with the physical stress of the bumpy roads, the bad pizza in the evening and the mental stress of digesting the horror here made me vomit in the night.
It is absolutely no fun to see and write about it. But I agree that this must not be forgotten. Why? Because I believe such monsters were not limited to that place and time period, but they keep repeating this kind of thing when they get the opportunity to do so. Just look at the news around the world. This was neither the first, nor the last massacre of the human history. So keep your ears, eyes and mouth open to prevent history from repeating under different names, shapes and colors.
Last, but not least, somehow, knowing these things helps to appreciate all the good things we are able to enjoy. So the last lesson to extract from this story is to recognize, how pathetic most of our little problems are and to appreciate all the good things we do have and to enjoy our lives as good as we can. I think, this is an obligation in the name of all those who didn't have this opportunity.
Warsaw
03/06/11 21:33 Filed in:
Travel
First impression?
BIG City: The roads are broad and the intensive traffic tells you very clearly, this is not a neat small town, but a major city.
However, once you start exploring the city, you realize how green it is. There are parks everywhere and they are quite big too. This image should give an idea: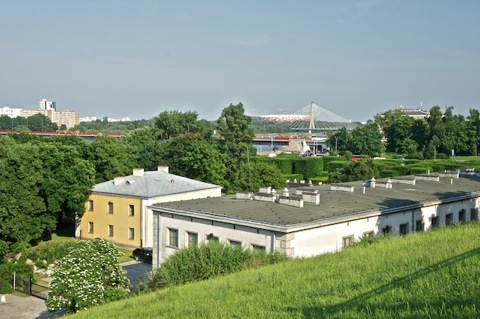 I was exploring the city mostly by bicycle. I have to say that given the size of the city and the bumpy roads, you need a mountain bike. A Dutch style "omafiets" is not an option. Even then, a 1/2 an hour ride is already tiring. The noise of the traffic doesn't make it more pleasant either. As it was also exceptionally warm when I was here, I felt like I had my daily dose of sports.
Considering the fact that Poland was a communist country not too long ago, I must say it must have developed
very
fast. From that point of view, you feel like in western Europe. Look at this fancy roof of a commercial centre and you know what I mean. It feels safe, things work and you can communicate in English better than in Spain or France. Sometimes, German is the preferred foreign language. Only the quality of the roads have still room for improvement...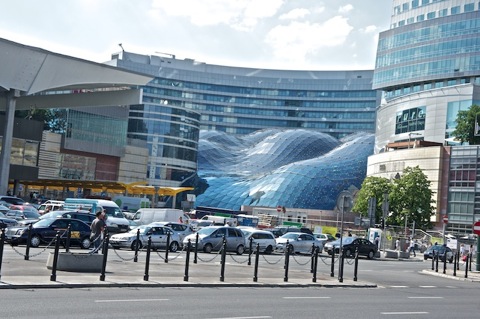 My camping place is a disappointment though. I got used to this super clean, friendly and modern camping including great WIFI in Krakow. Here it is more expensive and all these things are worse...
Do you remember that I missed the little mermaid in Copenhagen? I found her here in Warsaw! OK, maybe not exactly the same one, but this sister is probably the same size. And if the houses in the background remind you the Netherlands, you are right. This is the centre of the old town and there was a lot of trade with the Dutch long ago, such that they influenced also the architecture.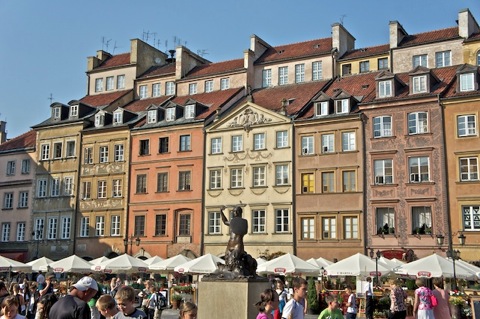 The picture below shows a unique house. It combines the history of the art of building houses in one building. The big stones at the entrance are original building material from the 13th century. Then you see bricks, which were introduced much later and finally, the modern flat facade.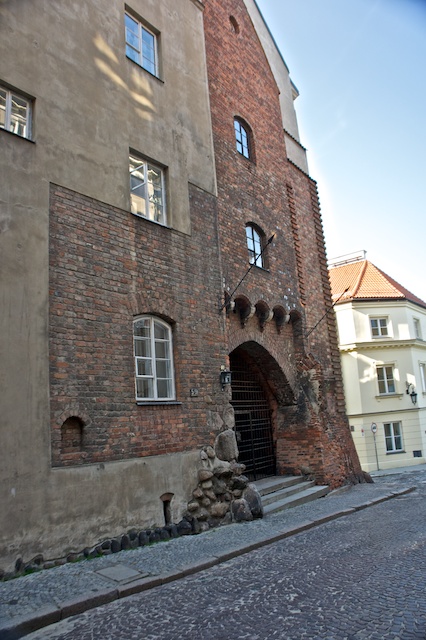 There are of course several monuments about the 2nd world war. The one below was made to remember the children that were sent into the fighting... I don't want to go into the details of this as I will also go to Auschwitz in a few days, but of course the horrors of war shall not be forgotten to prevent these things from happening again. These monuments are not there to look nice for pictures, but to make you think and feel..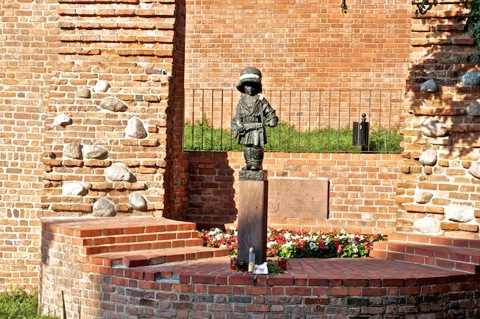 Last, but not least, the very centre of the modern Warsaw is dominated by the Palace of culture and science. If I remember right it was a "gift" from Stalin to the city. Whatever the history, the building itself is impressive. I have been to the terrace at the 30th floor. That is a good starting point to explore the city. I had also my first tango evening in that building in a rather small, but very beautiful hall. Come here on a Sunday.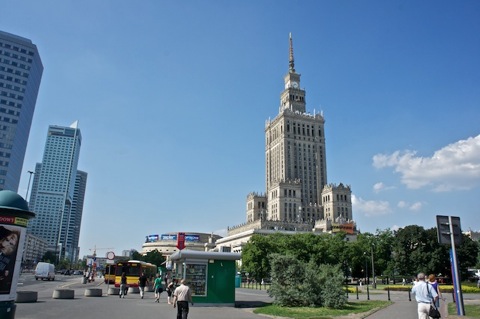 My series of repairs of the caravan had a new episode here. Now the second water tap is broken and this one is quite difficult to replace... Worse than that, the car had a completely destroyed break at one of the four wheels... Apparently, I was driving while that break was active a little all the time...
Beside all the things I explained above, the highlight for me was to meet a relative of mine and his family. We had lost contact for nearly 30 years! We both don't know exactly how long. This was such a great enrichment and I enjoyed the Turkish & Polish hospitality.
OK, tonight the last tango in Warsaw. Tomorrow, I return to Krakow.
[Sleeker_special_clear]