Warsaw
03/06/11 21:33 Filed in:
Travel
First impression?
BIG City: The roads are broad and the intensive traffic tells you very clearly, this is not a neat small town, but a major city.
However, once you start exploring the city, you realize how green it is. There are parks everywhere and they are quite big too. This image should give an idea: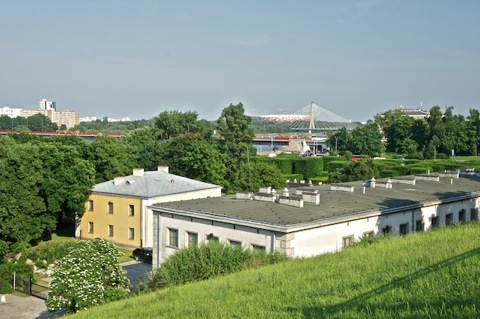 I was exploring the city mostly by bicycle. I have to say that given the size of the city and the bumpy roads, you need a mountain bike. A Dutch style "omafiets" is not an option. Even then, a 1/2 an hour ride is already tiring. The noise of the traffic doesn't make it more pleasant either. As it was also exceptionally warm when I was here, I felt like I had my daily dose of sports.
Considering the fact that Poland was a communist country not too long ago, I must say it must have developed
very
fast. From that point of view, you feel like in western Europe. Look at this fancy roof of a commercial centre and you know what I mean. It feels safe, things work and you can communicate in English better than in Spain or France. Sometimes, German is the preferred foreign language. Only the quality of the roads have still room for improvement...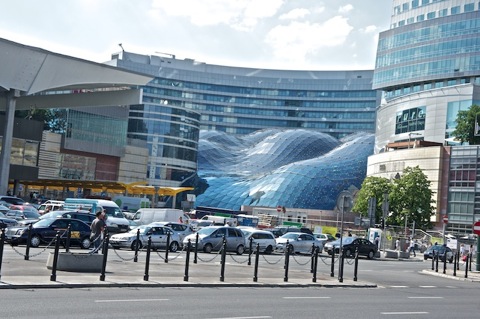 My camping place is a disappointment though. I got used to this super clean, friendly and modern camping including great WIFI in Krakow. Here it is more expensive and all these things are worse...
Do you remember that I missed the little mermaid in Copenhagen? I found her here in Warsaw! OK, maybe not exactly the same one, but this sister is probably the same size. And if the houses in the background remind you the Netherlands, you are right. This is the centre of the old town and there was a lot of trade with the Dutch long ago, such that they influenced also the architecture.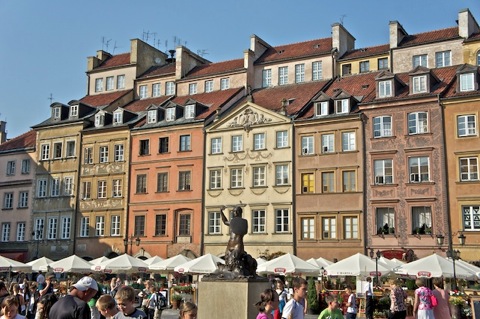 The picture below shows a unique house. It combines the history of the art of building houses in one building. The big stones at the entrance are original building material from the 13th century. Then you see bricks, which were introduced much later and finally, the modern flat facade.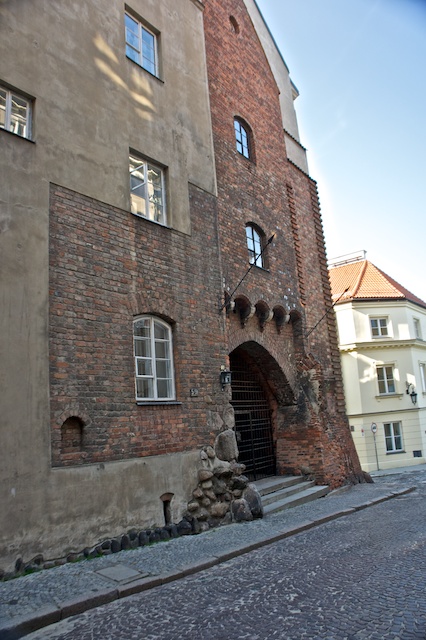 There are of course several monuments about the 2nd world war. The one below was made to remember the children that were sent into the fighting... I don't want to go into the details of this as I will also go to Auschwitz in a few days, but of course the horrors of war shall not be forgotten to prevent these things from happening again. These monuments are not there to look nice for pictures, but to make you think and feel..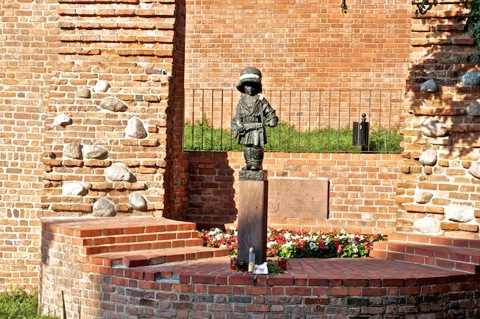 Last, but not least, the very centre of the modern Warsaw is dominated by the Palace of culture and science. If I remember right it was a "gift" from Stalin to the city. Whatever the history, the building itself is impressive. I have been to the terrace at the 30th floor. That is a good starting point to explore the city. I had also my first tango evening in that building in a rather small, but very beautiful hall. Come here on a Sunday.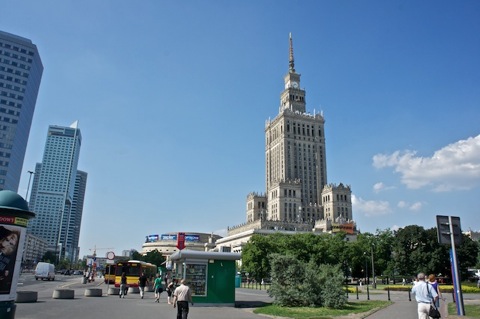 My series of repairs of the caravan had a new episode here. Now the second water tap is broken and this one is quite difficult to replace... Worse than that, the car had a completely destroyed break at one of the four wheels... Apparently, I was driving while that break was active a little all the time...
Beside all the things I explained above, the highlight for me was to meet a relative of mine and his family. We had lost contact for nearly 30 years! We both don't know exactly how long. This was such a great enrichment and I enjoyed the Turkish & Polish hospitality.
OK, tonight the last tango in Warsaw. Tomorrow, I return to Krakow.
Caravan
13/05/11 16:26 Filed in:
Travel
An old Caravan is like an old house. Charming, but repairs, repairs and repairs..

Here are some lessons learned after a week of spending quality time with my caravan:
The water pump: It needs to be under water all times. After refilling the canister I found that the pump was working from an electrical point of view, but not pumping any water. The guy next door told me that it has to have a screw that I need to open and fill with water. Well, mine doesn't have a screw, so I had to put it first in a different water bath where I could turn it upside down under water. Indeed I could see a lot of air bubbles coming out and then it worked fine again. Now I will refill the canister without moving it out of the caravan.

Parking: Last day in Würzburg I had parked it AND disconnected from the car uphill. Bad idea. The handbreak of the caravan barely kept it stable. That was almost OK, but putting it back on the hook of the car... Well I am certainly not strong enough to move it around in that situation. I had to move the car
precisely
to the spot to get the two married again..

An old caravan with lots of screws has many loose screws..

It is a good idea to have spare lamps, just like the car. When the cars behind you can't see you blinking left or right, you might end up in exciting situations...

The water-tap: Well, normally, a water-tap is either blocking the water or allows some water to flow all mechanically right? In a caravan, you don't have that water pressure. So you need a pump to be switched on and off at the moment you turn the water-tap. So there is also a switch. Exactly that switch was not working anymore. Luckily, I had my multimeter with me and I could find that the problem was indeed with the tap and not with the wiring anywhere else. So it is good to have one of these multimeters with you too. And an other tip: Do not try to repair it. It took me 1,5 days of improvisation. One solution lead to an other problem. Just buy a new one and replace the whole thing...

I hope that is the end of repairs.

One last word about the tires: New tires are really, really good. After I had them replaced, I had not only a better feeling, but also realized that the car was pulling the caravan much easier!
Project Status
28/04/11 20:29 Filed in:
Travel
Car to caravan interface test - check (mechanical & electrical) Caravan training - check Keys - check Driving lesson - check Car inspection - check Paper work - Done Packing - on the critical path

The transfer of the ownership of a caravan was the fun of the day. You need to do it at a post office. Of course the first one you go to tells you they can't do it. So you need to find one with this capability. Then you need to prove where you live in the Netherlands, if you are a foreigner. Maybe this is a well meant security measure, but given the fact that it was not needed when I bought a car or even a house, it seems a bit exaggerated to me.
[Sleeker_special_clear]